As a vegan, it is easy to become very one dimensional. I know a lot of vegans that eat the same rendition of what is essentially a vegetable stir fry. You know the one, the old seven vegetable and rice combined with a slightly different sauce each time.
When I saw this book, Vegetarian Sushi Secrets, I got excited! I saw visions of people taking some time out to visit their local Asian supermarkets, getting inspired by a different cuisine, and creating their edible artworks.
This book by Marisa Baggett is a sequel to 'Sushi Secrets.' The aim of the book was to debunk the myth that sushi meat 'served with fish' I, for one, am glad that she took the time and effort to write this book.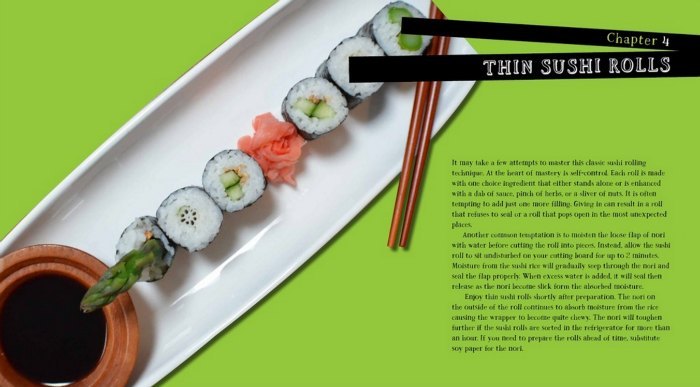 Now more than ever, more people turning to a plant-based vegan diet. One of the biggest struggles for people who are new to the diet is the fact that they have to 'give up' a few of their previous foods. Besides the leading contenders such as cheese, milk-based dips, and honey, are certain cuisines. Yes, sushi traditionally is served as a non-vegan meal, but that's changing.
Marisa has put together an incredible resource of numerous vegan-friendly options. Some of the recipes need a small twist of an ingredient or two so that it is vegan.
Sushi works better as vegan-friendly in the Western world. In most western countries it ranges from difficult to impossible to get all the ingredients together to make 'traditional sushi.' However, with local farmers markets and local organic food suppliers, you have access to 99% of the ingredients already. The rest are easily sourced or created yourself.
Who is this book for?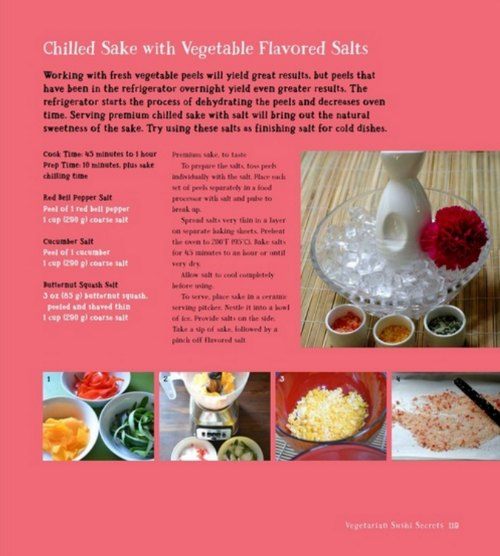 The instructions for this book are very clear and easy to follow. However, absolute beginners will struggle with the majority of the recipes. That being said, a chef that is somewhat capable will love the challenge. One of the biggest obstacles for beginners will be substituting certain ingredients for others so that it transfers from vegetarian to vegan. This comes with a little experience, understanding and some friendly question asking.
Intermediate to advanced chefs will thrive with these recipes.
Buy Vegetarian Sushi Secrets Now!
What I Love About This Book
The author takes the time at the beginning of the book to go through and explain the ingredients before looking at any of the recipes. This familiarises the reader so that they are comfortable once they are ready to continue reading the recipe list.
To prevent food waste, there are tips for each of the ingredients for storage and ingredient selection.
Additionally, to cut down on costs, the author offers alternatives to buying certain kitchen utensils. Reducing the upfront costs that could deter would-be sushi chefs.
Recipe Favorites
Seaweed Salad
It is a shame that much of the Seaweed Salads sold in sushi restaurants contain dried fish. Vegans like Seaweed Salads too! This option is an excellent starter dish and prepares the palate for the flavor infusion of sushi.

This is a really nice twist on a salad and it is very different from the salads I normally prepare. It's easy to make, delicious and very healthy!
Broccoli Stem Kimchi Inari
Japanese cuisine lends itself to an excellent presentation. A big reason that I love this recipe is how you can put the extra time in and prepare something stunning. While you can take some extra time in ensuring excellent presentation, the recipe itself is fast and easy to make. It is a real crowd-pleaser to serve too!

The chili paste and ginger root blend excellently together to give the vegetables a very Asian taste. The little pockets are easily eaten in one bite, so plan on making more than you think as they were a definite favorite at our place.
Asparagus Almond Rolls
The inspiration from this recipe is worth the price of the book alone. If you are ever cooking for some friends who are not vegan, they will appreciate this option. The crunch of both the Asparagus and the Almonds coupled with the zest and spice of the sesame soy mustard is to die for.
Buy Vegetarian Sushi Secrets Now!
---
Have you had the chance to try some of the recipes from this book? How did you go? Let me know if you have any other questions in the comments.